Europe's greatest collection of baroque churches outside Rome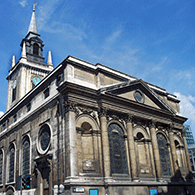 With the immense weight of finance and commerce to which it is home, it is often easy to forget the strong spiritual heritage that is threaded through the ancient fabric of the City of London. To this day the unmistakable dome of St. Paul's is surrounded by an extraordinary constellation of steeples and spires. The oldest of these belong to the Gothic churches that survived the Great Fire of London, many of which are immaculately preserved as ornate reminders of the City's Saxon and medieval roots. But the vast majority of City's spires belong to the astonishing 51 churches Sir Christopher Wren designed in the wake of the Great Fire of London. Of these the ravages of war and redevelopment have left only 24 remaining with a further six still partially standing. But each one exists as a florid testament to how the English Baroque converted Catholic visual ritual into a Protestant design ethic acceptable to Reformation England. In their sheer depth of variety and inventiveness, they also stand as a monument to the inventive genius of their creator and reflect the enduring appeal of the dynamic cityscape he planned where churches once studded the skyline like urban jewellery.
​
Highlights:
​
St. Paul's Cathedral

St. Stephen Walbrook

St. Mary-le-Bow
​
Please note that most churches in the City of London operate limited opening times and access to interiors cannot be guaranteed.
​
WALK START LOCATION: Monument tube station (Fish Street Hill Exit) / Map
WALK ENDS: Fleet Street
​
​
​
ALL WALKS KEY:
​
STYLES / PERIODS Featured
GO

GOTHIC / PRE-
MEDIEVAL
10

TOWER OF LONDON /
TOWER BRIDGE